Main Page
Jump to navigation
Jump to search
OntoRail knowledge engine - user documentation
The present Wiki documents the contents of the User's Guide of the OntoRail knowledge engine.
OntoRail main functionalities
The OntoRail knowledge engine is offering four main functionalities:
OntoRail main panel
The interface of the main page of the OntoRail web application is divided in three parts:
a menu bar
a panel displaying the available source ontologies
a panel dedicated to creating and editing relations between concepts
Menu Bar
The Menu Bar offers access to the following functionalities:
User's Manual (this Wiki)
Download of:

source ontologies
OntoRail relations and OntoRail vocabulary

SPARQL endpoint
User Login (some functionalities are limited to logged-in users)

Source ontologies panel
The Source ontologies panel provides an overview of all sources visible to the user as well as access to a global search across ontologies.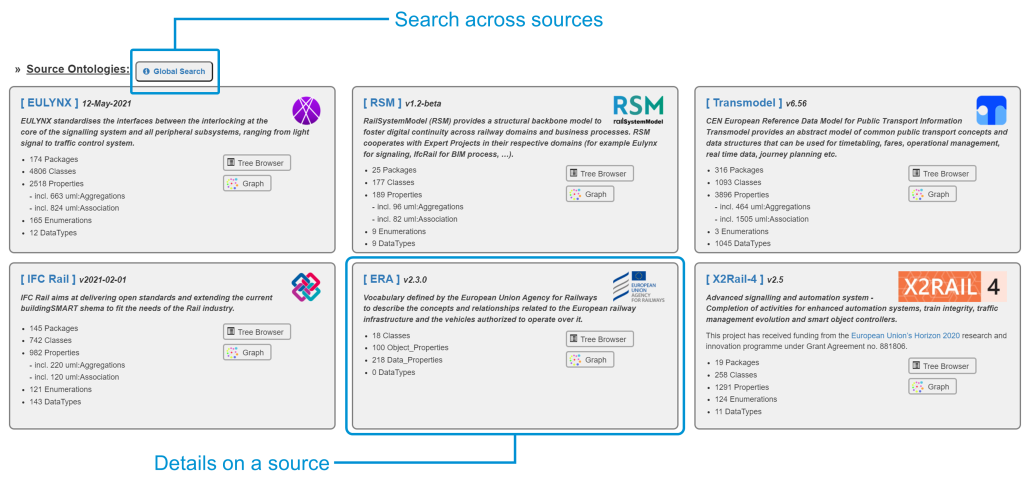 For each source, a details panel provides:
a link to the official documentation of the source
version info on the source
a concise description of the source
an overview of the contents of the source in terms of number of packages / classes, number of properties, ...
an access to the Tree Browser widget to visualize the source in a hierarchical tree browser
an access to the Graph View widget to visualize the source as a connected graph
For further details on the functionalities offered by the OntoRail web application for browsing one or more sources, see Browse.
Relations panel
The Relations panel offers functionalities for:
the creation
the edition
the deletion
of the links created with the OntoRail tool.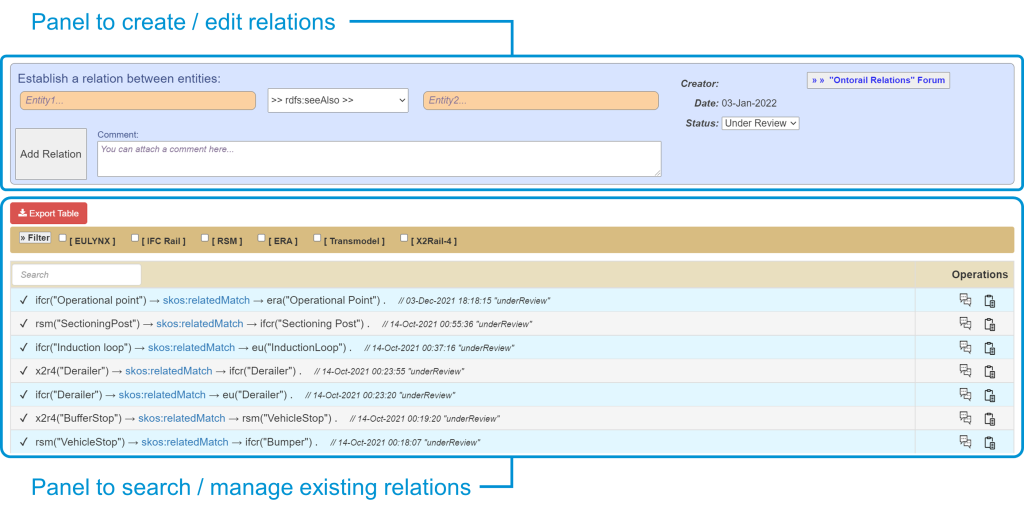 For further details on the usage of the relations panel, see Relate.
--- MediaWiki help
---